Follow the Indian Premier League 2020 live cricket score on Sports.NDTV.com. After 5.1 overs, Delhi Capitals are 35/3. Get live score, ball by ball commentary and much more. Keep track of Indian Premier League 2020 today match between Mumbai Indians and Delhi Capitals. Everything related to Mumbai Indians and Delhi Capitals match will be available on Sports.NDTV.com. Stay updated with Mumbai Indians vs Delhi Capitals live score. Do check for Mumbai Indians vs Delhi Capitals scorecard. You can get scorecard updates, match related facts. Get quick live updates with ads, Sports.NDTV.com, which is the perfect destination for live cricket score.
4.6 overs (1 Run)
Short ball, pulled away uppishly but safely over square leg. A single.
4.5 overs (4 Runs)
FOUR! That is nicely placed. Length ball outside off, Shreyas Iyer camps back, stands tall and punches it wide of Krunal at cover-point. The ball races away for a boundary.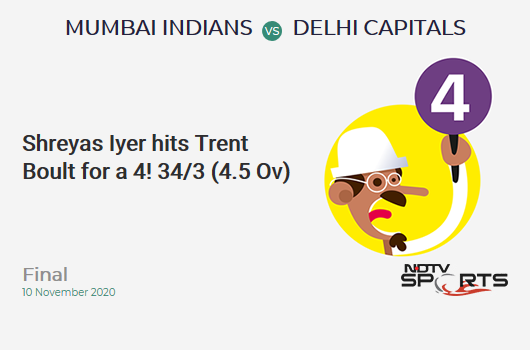 4.4 overs (0 Run)
Length ball on the body, tucked to square leg.
4.3 overs (0 Run)
Slash and a miss! On top of off on a length, the Delhi skipper clears his front leg and looks to slog it over covers. Misses.
4.2 overs (4 Runs)
FOUR! Finds the gap there, Shreyas Iyer. Full and outside off, he drives it on the up, between cover-point and cover. The man at cover gives chase but the ball beats him, to the ropes, for a boundary.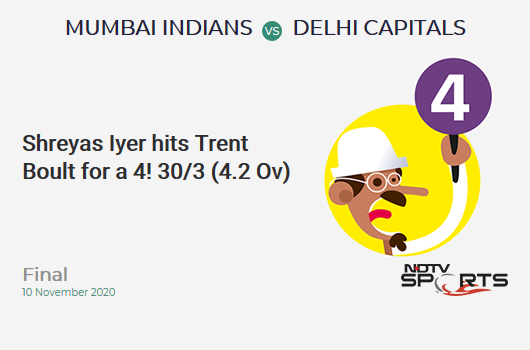 4.1 overs (1 Run)
Full and around off, driven down to mid on for a quick one.
3.6 overs (1 Run)
On middle, this is worked towards mid on for one. End of a brilliant over from Yadav.
3.5 overs (2 Runs)
Pant is off the mark! On middle, this is pulled nicely towards deep mid-wicket for two.
3.4 overs (0 Run)
On middle, this is blocked out.
Who will walk out to bat now? Rishabh Pant, it is.
3.3 overs (0 Run)
OUT! TIMBER! Delhi are in all sorts here! Dhawan is out of here. Everything Mumbai are doing is turning into gold. They got Jayant Yadav in who has struck in his first over and he has got a huge wicket. That is a poor shot from Dhawan. This is slower through the air, it lands on middle. Dhawan looks to play the slog sweep but misses it completely. The ball pitches and then turns away a little and hits the stumps. Delhi succumbing to the pressure of the final here.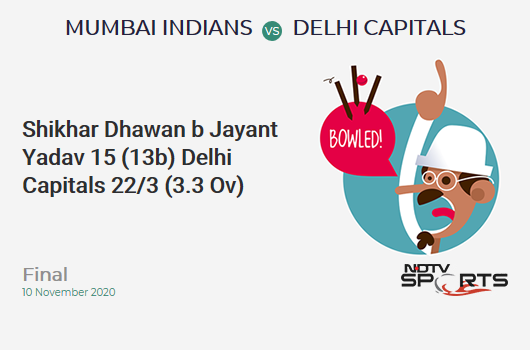 3.2 overs (1 Run)
Flatter and on off, this is pushed towards cover for one.
3.1 overs (1 Run)
Tossed up on off, Dhawan looks to drive but gets an inside edge onto the pads. It rolls on the off side for one.
2.6 overs (0 Run)
In the air.. but safe! Iyer is living dangerously here. Short ball, Iyer looks to play at it but is surprised by the bounce on that. The ball takes the shoulder of his bat and lobs on the on side. Trent runs in there and tries to take it but it falls short. Fortune is on Shreyas's side, for now.
2.5 overs (4 Runs)
FOUR! Lucky there, Iyer. Short ball, outside off, at a searing pace. Iyer looked to play at it but then tries to pull away at the last minute. But he is a bit late, the ball takes the outside edge and flies over the slips, to third man, a boundary.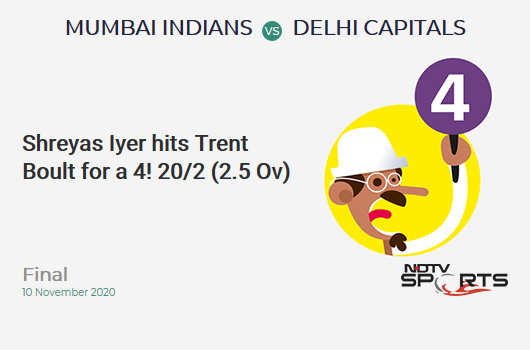 Shreyas Iyer walks out to bat! The skipper has to play a knock of substance here. His team needs him to fire.
2.4 overs (0 Run)
OUT! TAKEN! One more. Once again, it is Trent Boult. Mumbai are on fire. Full and on the pads, Ajinkya Rahane looks to flick but he does not do so well. He ends up clipping it faintly. It goes to the left of the keeper behind the stumps. Quinton moves to that direction and takes it. Mumbai appeal for a caught behind and the umpire is in unison with them, raising his finger immediately. Jinks does not want to review that, he knows he nicked that.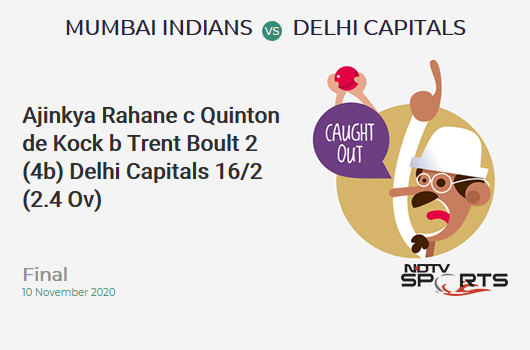 2.3 overs (1 Run)
Good length ball outside off, punched to point for a quick single.
2.2 overs (0 Run)
On the pads, Dhawan looks to tuck it towards fine leg. Misses and it comes off his pads and goes to de Kock.
2.1 overs (4 Runs)
FOUR! Dhawan backs himself well there. Fullish and around off, he shimmies down the track and lofts it over the infield. The ball races away to the deep point fence.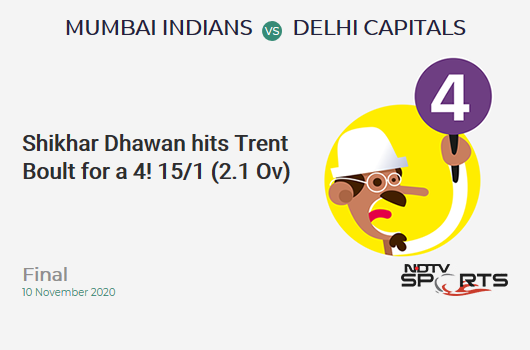 1.6 overs (0 Run)
Full and around off, Rahane looks to defend. He gets it off the inner half, it clips his pads and goes to the keeper on a bounce.
1.5 overs (1 Run)
Ahh… that was the one we were all waiting for! The yorker, resemblance of Qualifier 1 coming to our minds, Dhawan digs it out, off the inner half. It goes behind the stumps and Delhi sneak in a quick single. Dhawan manages to dig the yorker out this time.
1.4 overs (0 Run)
Another excellent short ball, outside off, Shikhar lets it be.
1.3 overs (4 Runs)
FOUR! Ohh…. just over slip there. Heart must have been in the mouth there, for Dhawan. Good short ball from Bumrah, Dhawan looks to fend it away but gets it off the shoulder. It flies over the slips and races away to the third man boundary.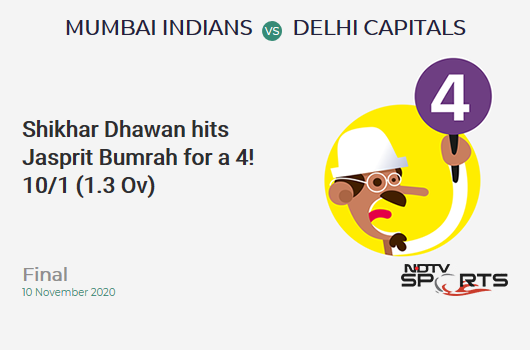 1.2 overs (0 Run)
Length ball on middle, dabbed to the off side. Dhawan wants a single but Rahane sends him back.
1.1 overs (1 Run)
Fullish and well outside off, pushed to Boult at third man for a single.
Jasprit Bumrah to bowl from the other end! He has been excellent against Delhi in the tournament so far. Let's see how he fares here.
0.6 over (0 Run)
Full and nipping away, outside off, driven to mid off. What a good first over for Mumbai, 5 runs and a wicket off it.
0.5 over (0 Run)
Full and around off, Dhawan shoulders arms to let it through. Boult is so brilliant with the new ball.
0.4 over (4 Runs)
FOUR! First runs for Dhawan in the final. Full and on middle and leg, he flicks it with ease, wide of Kishan at mid-wicket and gets a boundary.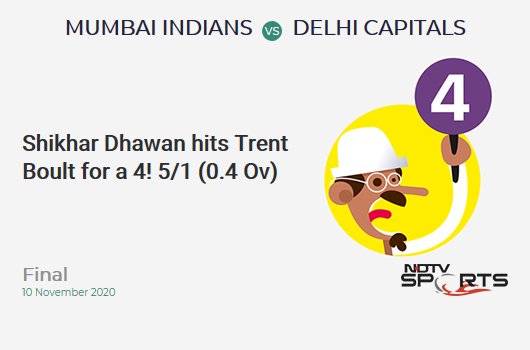 0.3 over (0 Run)
Shape away now. Lands a full ball around off, it pitches and goes away, Shikhar watchfully lets it be.
0.2 over (1 Run)
Full and swinging into middle, flicked to wide mid on for a single. First runs off the bat for Delhi. Ajinkya is up and running as well.
Ajinkya Rahane is out to bat! He has been up the order to stabilize the innings. Needs to do so.
0.1 over (0 Run)
OUT! CAUGHT! What a start, Trent Boult! Does not matter, the injury. You are a champion. Length ball around off, it comes back in intially but then shapes away, Stoinis looks to play at it but gets an outside edge. It goes to de Kock who takes it and is elated. Huge celebrations in the field as Mumbai are off to a roaring start in Dubai. That is a really good nut first up.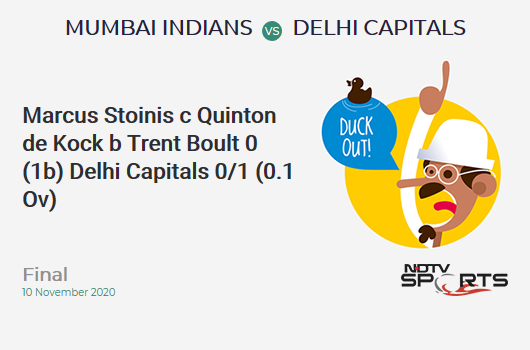 Ready to begin at the 'Ring of Fire' for the final then. What an atmosphere it is, so fascinating! The umpires exchange fist bumps and then make their way out to the middle. Following them onto the field are the mighty Mumbai players, led by their skipper, Rohit Sharma. They enter through the special red carpet, with fireworks greeting them on the sides. In walk Delhi's openers, Marcus Stoinis and Shikhar Dhawan as well. What an opening partnership this was, on the big night, against Hyderabad in Qualifier 2. Trent Boult will begin with the ball for Mumbai. There were some concerns on his groin injury, but he is here and will start proceedings with the ball for Mumbai. TIME TO START THE GAME…
Mumbai (Playing XI) – Quinton de Kock (WK), Rohit Sharma (C), Suryakumar Yadav, Ishan Kishan, Hardik Pandya, Kieron Pollard, Krunal Pandya, Nathan Coulter-Nile, Jayant Yadav (IN PLACE OF RAHUL CHAHAR), Trent Boult, Jasprit Bumrah.
Delhi (Unchanged Playing XI) – Marcus Stoinis, Shikhar Dhawan, Ajinkya Rahane, Shreyas Iyer (C), Shimron Hetmyer, Rishabh Pant (WK), Axar Patel, Ravichandran Ashwin, Kagiso Rabada, Praveen Dubey, Anrich Nortje.
Rohit Sharma, Mumbai's skipper, says he was very confused as to what to do and he does not mind bowling. States it will remain a good track, it does not change a lot, they need to bowl aggressively and then see how it goes. Mentions it feels nice to be part of another final, reckons it is going to be a cracker of a game. Adds it is a fresh game and the pressure of the final is going to be different but they need to treat this as another game and do their best. Informs Rahul Chahar is out and Jayant Yadav comes in, adds it is a tactical change.
Shreyas Iyer, Delhi's captain, says batting first worked out well in the last game and hence, they want to stick to it. Mentions batting first has been their strength and putting a good total on the board will be amazing and it looks a good wicket. States the way Mumbai have played throughout the years and in this tournament has been excellent but Delhi have nothing to lose and they want to give it their all. Also adds, the boys are really motivated and they want to give their best and enjoy the game. Informs they are playing the same side.
Toss – All in readiness for the all-important toss for the final of Indian T20 League, 2020 at Dubai. The two captains are out in the middle, Rohit Sharma and Shreyas Iyer. The spin of the coin lands in Delhi's favour. THEY WILL BAT FIRST!
Over a month full of action, drama and emotion, we are finally at the Final day of this year's Indian T20 League. All to play for here and it is a clash between the table toppers, Mumbai and the side which finished second, Delhi. The former are eyeing their 5th trophy whereas the latter their first. Talking about finals, Mumbai have a fabulous record winning 4 out of the 5 they've played. Their opposition on the other hand, will be playing their first. Also, this year, the Rohit Sharma led side have a 3-0 record against their finalists so one has to believe it is them who are the favorites heading into this fixture. The Delhi side though will be hungry, their youngsters will be eager to get their hands on that trophy. Will that hunger help them thrive and will Iyer be the youngest skipper to lift the Indian T20 trophy or will the they bow down to this experienced Mumbai side? We will find out, stay tuned for the toss in a while….
This post is a syndicated feed and is not edited by the Cricgully Staff. Here is the original post Source link.